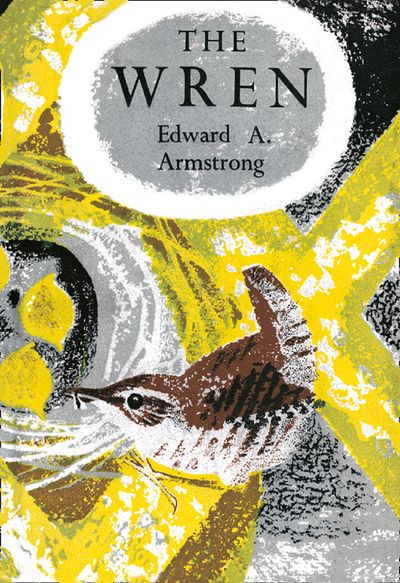 Collins New Naturalist Monograph Library - The Wren
(Collins New Naturalist Monograph Library, Book 3)

: Dust Jacket only edition

By Edward A. Armstrong
The Collins New Naturalist series is the longest-running and arguably the most influential natural history series in the world with over 100 volumes published in over 60 years.
While the mainstream New Naturalist volumes were initially intended to deal with broad subjects such as wild flowers, insects or National Parks, a parallel New Naturalist series of monographs on single species or related groups of species was also published between 1948 and 1971. There have been no additions since. Now, for the first time in over forty years, these best-selling, out-of-print volumes will be available as print-on-demand editions.
The New Naturalist monographs shared the same high standards of the main series and were envisioned as relatively short books of about 50,000 words, and in a smaller format than the main series. Artists Clifford and Rosemary Ellis were asked to design jackets for this series alongside the main series, which resulted in the same stunning, distinctive cover illustrations that had helped inspire an entire new generation of nature enthusiasts.
The New Naturalist Monograph Series:
1 The Badger by Ernest Neal
2 The Redstart by John Buxton
3 The Wren by Edward A. Armstrong
4 The Yellow Wagtail by Stuart Smith
5 The Greenshank by Desmond Nethersole-Thompson
6 The Fulmar by James Fisher
7 Fleas, Flukes and Cuckoos by Miriam Rothschild and Theresa Clay
8 Ants by Derek Wragge Morley
9 The Herring Gull's World by Niko Tinbergen
10 Mumps, Measles and Mosaics by Kenneth M. Smith and Roy Markham
11 The Heron by Frank A. Lowe
12 Squirrels by Monica Shorten
13 The Rabbit by Harry V. Thompson and Alastair N. Worden
14 Birds of the London Area Since 1900 by R. C. Holmes and the London Natural History Society
15 The Hawfinch by Guy Mountfort
16 The Salmon by J. W. Jones
17 Lords & Ladies by Cecil T. Prime
18 Oysters by C. M. Yonge
19 The House Sparrow by J. D. Summers-Smith
20 The Wood Pigeon by R. K. Murton
21 The Trout by W. E. Frost and M. E. Brown
22 The Mole by Kenneth Mellanby
Praise for the New Naturalist series: -
"'Taken either individually or as a whole, they are one of the proudest achievements of modern publishing" - The Sunday Times
"'The series is an amazing achievement" - The Times Literary Supplement
"'The books are glorious to own" - Independent