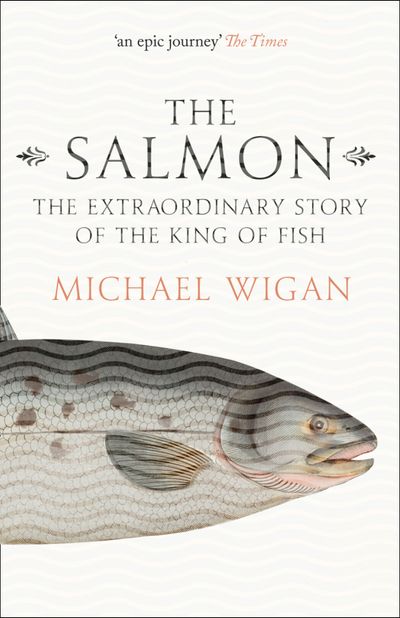 The Salmon: The Extraordinary Story of the King of Fish
By Michael Wigan
A fascinating journey into the extraordinary world of the king of fish: the salmon. This beautiful book explores the natural history of this most mysterious of fishes.
Michael Wigan explores the life cycle of the salmon, weaving his own experiences and stories of salmon fishing and spotting into an evocative narrative. Crucially, he addresses the pressing matter of conservation issues and human management, which in the past has led to fast decreasing populations. History suggests it is the pressure of human development which has narrowed down the survival zone of the salmon, and the author questions whether we can go on altering natural systems and freshwater rivers in order to make space for human populations, and do so in sync with fish needs.
In his unique and passionate voice, the author transports us to another world – his writing is beautifully evocative and his excitement for the salmon palpable throughout.
"'Mr Wigan is a skilled researcher and evocative writer" - Wall Street Journal
"'The Salmon is less a scholarly tome and more of a call to arms on behalf of the salmon." - Chicago Tribune
"'If you think you have read it all before, let me assure you that you haven't. The Salmon is quite the best book I've read on the subject, skilfully told with wit and a wry turn of phrase […] This is a fishing book, scientific analysis, tragedy, love story, history and story of hope rolled into one." - Classic Angling
"'Although there are occasional passages about the passionate experience of angling, this is no mere sport fisherman's celebration - it is a forensic, and often caustic, analysis of the historical interaction between humans and 'the silver wanderer" - Country Life
"'It's an absolute must read for anyone even remotely interested in the conservation of wild Atlantic salmon" - Atlantic Salmon Journal
"'Extremely well-informed" - Literary Review
"'Michael Wigan gives us passionate advocacy on behalf of the wild Atlantic salmon. Above all he recognises the salmon as environmental indicator - 'the hydrographer's fish" - as well as cultural icon and economic driver.' Tony Andrews, director of the Atlantic Salmon Trust
"'The life cycle of the salmon comes alive in Wigan's passionate book … a highly readable account of the king of fish." - Shooting Times