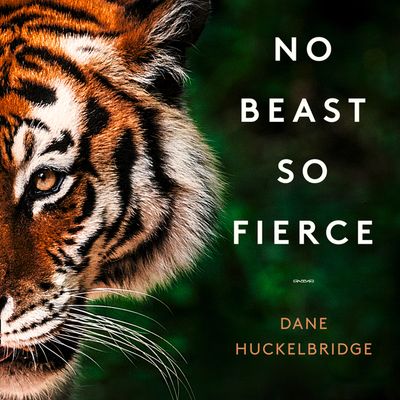 No Beast So Fierce: The Champawat Tiger and Her Hunter, the First Tiger Conservationist: Unabridged edition
By Dane Huckelbridge, Read by Corey Snow
The deadliest animal of all time meets the world's most legendary hunter in a classic battle between man and wild. But this pulse-pounding narrative is also a nuanced story of how colonialism and environmental destruction upset the natural order, placing man, tiger and nature on a collision course.
In Champawat, India, circa 1900, a Bengal tigress was wounded by a poacher in the forests of the Himalayan foothills. Unable to hunt her usual prey, the tiger began stalking and eating an easier food source: human beings. Between 1900 and 1907, the Champawat Man-Eater, as she became known, emerged as the most prolific serial killer of human beings the world has ever known, claiming an astonishing 436 lives.
Desperate for help, authorities appealed to renowned local hunter Jim Corbett, an Indian-born Brit of Irish descent, who was intimately familiar with the Champawat forest. Corbett, who would later earn fame and devote the latter part of his life to saving the Bengal tiger and its habitat, sprang into action. Like a detective on the tail of a serial killer, he tracked the tiger's movements, as the tiger began to hunt him in return.
This was the beginning of Corbett's life-long love of tigers, though his first encounter with the Champawat Tiger would be her last.
Praise for No Beast So Fierce -
"'Gripping … From 1900 to 1907, a female Bengal tiger (Panthera tigris tigris) killed hundreds of villagers in northern India and Nepal. This compelling account hinges on that grisly story, but digs deep into causation" - Nature
"'Thrilling … Fascinating … Exciting" - Wall Street Journal
"'Fascinating … Multilayered … A superb work of natural history" - Booklist, starred review
"'Riveting … A haunting tale" - Scientific American
"'A vivid portrait. … No Beast So Fierce excels as an intelligent social history and a gripping tale of life and death in the Himalayan foothills" - Minneapolis Star Tribune
"'A gripping page-turner that also conveys broader lessons about humanity's relationship with nature." - Publisher's Weekly
"'Huckelbridge details the surprisingly methodical and incredibly blood[y] machinations of … perhaps the most murderous non-human animal in recorded history" - Popular Science
"'[A] terrifying story. … [A] harrowing tale. … Takes readers on a fascinating journey through the natural history of a tiger" - Science News
"'A great tale and study of man versus beast, or rather, beast versus man. The seminal battle between Jim Corbett and the Champawat Tiger stands as an epic encounter of the ages. Dane Huckelbridge's No Beast So Fierce will make you rethink your position in God's universe" - and on the food chain.' Jim Defelice, #1 bestselling co-author of American Sniper
"'I had a feeling this book would hook me from the get-go. I was right. Dane Huckelbridge's remarkable narrative … reveals the circumstances that cause tigers to stalk human prey as well as Corbett's transformation into a conservationist and ardent champion for protecting the animals he once hunted." - Michael Wallis, author of The Best Land Under Heaven