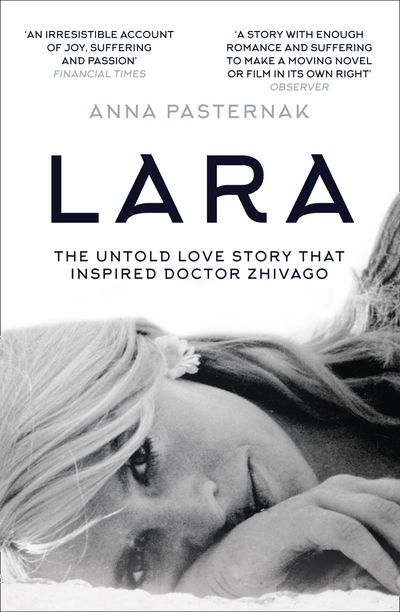 Lara: The Untold Love Story That Inspired Doctor Zhivago
By Anna Pasternak
'Riveting, tragic tale' New Yorker
'Anna Pasternak has produced an irresistible account of joy, suffering and passion' Financial Times
The heartbreaking story of the passionate love affair between Boris Pasternak and Olga Ivinskaya – the tragic true story that inspired Doctor Zhivago.
'Doctor Zhivago' has sold in its millions yet the true love story that inspired it has never been fully explored. Pasternak would often say 'Lara exists, go and meet her', directing his visitors to the love of his life and literary muse, Olga Ivinskaya. They met in 1946 at the literary journal where she worked. Their relationship would last for the remainder of their lives.
Olga paid an enormous price for loving 'her Boria'. She became a pawn in a highly political game and was imprisoned twice in Siberian labour camps because of her association with him and his controversial work. Her story is one of unimaginable courage, loyalty, suffering, tragedy, drama and loss.
Drawing on both archival and family sources, Anna Pasternak's book reveals for the first time the critical role played by Olga in Boris's life and argues that without Olga it is likely that Doctor Zhivago would never have been completed or published.
Anna Pasternak is a writer and member of the famous Pasternak family. She is the great-granddaughter of Leonid Pasternak, the impressionist painter and Nobel Prize winning novelist Boris Pasternak was her great-uncle. She is the author of three previous books.
#1 January book on Ophrah.com -
"'Utterly compelling and meticulously researched, this revealing look at an epic love affair transforms our understanding of a literary masterpiece" - Michael Sheldon
"'Riveting, tragic tale" - New Yorker
"'Anna has produced a fascinating and often heart breaking portrait. Her book, which proceeds as suspensefully as a criminal investigation, is a testament to the profound bond between writer and muse." - O Magazine
"'A gripping and well-researched book [that] seeks to establish Olga's place in history" - Express
"'[A] gripping if sad chapter in history and she tells it well" - Evening Standard
"'Meticulously researched" - Sunday Times
"'Anna Pasternak has produced an irresistible account of joy, suffering and passion" - Financial Times
"'A story with enough romance and suffering to make a moving novel or film in its own right" - Observer
"'Anna Pasternak does not spare an ounce of drama nor detail from the story of her great uncle's love affair with Olga Ivinskaya, the inspiration for Doctor Zhivago's Lara. The result is a profoundly moving meditation on love, loyalty, and, ultimately, forgiveness" - Amanda Foreman
'A … marvellously interesting book … There are no happy endings in either ['Doctor Zhivago' or 'Lara'], but both are fascinating tales' Spectator -
"'Passionate and intriguing … this is a brave and necessary rebuttal to much of the historical record" - Country & Town House
"'A fascinating story … I had already read Doctor Zhivago, but I wish I could have read this book then, too, for I have now been greatly enlightened, as well as much entertained" - Country Life
"'An enchanting love story, wonderfully told" - Sir Ronald Harwood
"'Lara is a quest to give recognition to a woman immortalized in Doctor Zhivago, yet consumed by the meat grinder of the Soviet state, then erased by the Pasternak family. Lara - the story of one of Stalin's innumerable victims, is a particularly poignant book" - Washington Post