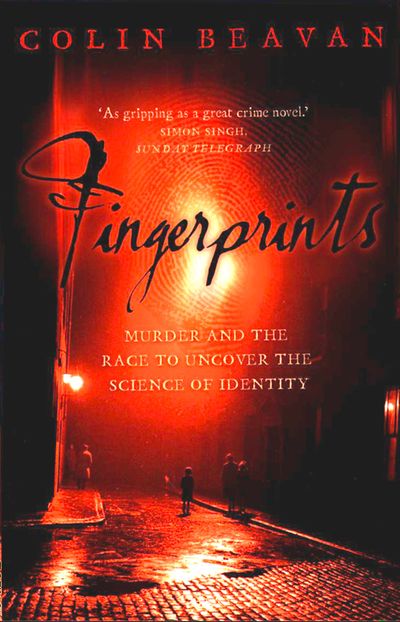 Fingerprints: Murder and the Race to Uncover the Science of Identity
(Text Only)
By Colin Beavan
This edition does not include illustrations.
A fascinating exploration into the history of science and crime. In the tradition of 'Fermat's Last Theorem', FINGERPRINTS is the story of the race to discover the secrets trapped in the whorls and arches found on the palm of one's hand.
In 1905 an elderly couple were found murdered in their shop in Deptford, London. The only evidence at the scene of the crime was a sweaty fingerprint on a cashbox. Was it possible that a single fingerprint could be enough to lead to a conviction? Could the pattern of these tracks hold the secrets of the science of identification?
Through the story of three brilliant men: William Herschel, a colonial administrator in Indian, Henry Faulds, a missionary in Japan and Charles Darwin's cousin, Francis Galton, the extraordinary story of the history of fingerprinting is revealed.
It is a story of intellectual skulduggery and scientific brilliance. Packed with an extraordinary cast of individuals whose scientific breakthroughs helped solve one of the most brutal murders in English history and shape our understanding of identity forever.
'As entertaining as it is well-researched and informative.' Scotland on Sunday -
'Full of such fine small stories. Beavan has added another splendid book to the canon of non-fiction classics.' Dea Birkett, Independent -
'As gripping as any crime novel.' Simon Singh, Sunday Telegraph -
'By sparse intelligent use of detail Beavan has created an engrossing, tight drama spanning the latter part of the 19th Century. His research is impressive and he seems to have a genuine feel for the period.' Daily Telegraph -
'Beavan skilfully interweaves an absorbing tale with a fine cast of colourful and eccentric characters to provide a compelling account of the origins of forensic science.' Deborah Cadbury, author of THE DINOSAUR HUNTERS -