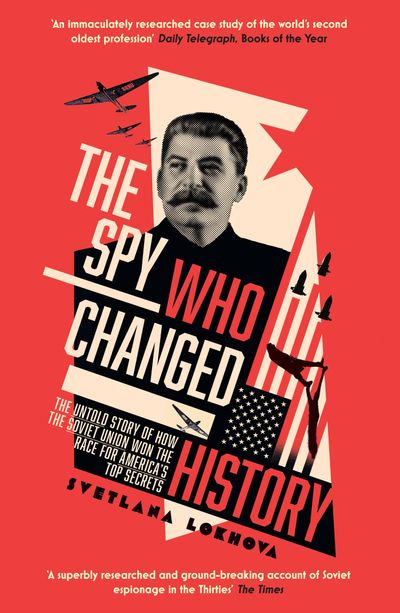 The Spy Who Changed History: The Untold Story of How the Soviet Union Won the Race for America's Top Secrets
By Svetlana Lokhova
'A superbly researched and groundbreaking account of Soviet espionage in the Thirties … remarkable' 5* review, Telegraph
On the trail of Soviet infiltrator Agent Blériot, in this bestseller, Svetlana Lokhova takes the reader on a thrilling journey through Stalin's most audacious intelligence operation.
On a sunny September day in 1931, a Soviet spy walked down the gangplank of the luxury transatlantic liner SS Europa and into New York. Attracting no attention, Stanislav Shumovsky had completed his journey from Moscow to enrol at a top American university. He was concealed in a group of 65 Soviet students heading to prestigious academic institutions. But he was after far more than an excellent education.
Recognising Russia was 100 years behind the encircling capitalist powers, Soviet leader Joseph Stalin had sent Shumovsky on a mission to acquire America's vital secrets to help close the USSR's yawning technology gap. The road to victory began in the classrooms and laboratories of MIT – Shumovsky's destination soon became the unwitting finishing school for elite Russian spies. The USSR first transformed itself into a military powerhouse able to confront and defeat Nazi Germany. Then in an extraordinary feat that astonished the West, in 1947 American ingenuity and innovation exfiltrated by Shumovsky made it possible to build and unveil the most advanced strategic bomber in the world.
Following his lead, other MIT-trained Soviet spies helped acquire the secrets of the Manhattan Project. By 1949, Stalin's fleet of TU-4s, now equipped with atomic bombs could devastate the US on his command. Appropriately codenamed BLÉRIOT, Shumovsky was an aviation spy. Shumovsky's espionage was so successful that the USSR acquired every US aviation secret from his network of agents in factories and at top secret military research institutes.
In this thrilling history, Svetlana Lokhova takes the reader on a journey through Stalin's most audacious intelligence operation. She pieces together every aspect of Shumovsky's life and character using information derived from American and Russian archives, exposing how even Shirley Temple and Franklin D. Roosevelt unwittingly advanced his schemes.
"'The old Soviet Union infiltrated hundreds of young men and women in to Western universities to acquire intelligence - such 'sleepers' are still active today working for Putin's Russia. Svetlana Lokhova looks in detail at the role of Stanislav Shumovsky who in 1931 enrolled as a student at the US MIT and helped to acquire the secrets of the Manhattan Project. Well worth a read is her 'The Spy Who Changed History'" - Keith Simpson MP for Iain Dale Recommends
"'[A] big, ambitious book … There was a chink of light towards the end of Yeltsin's time, but Putin slammed the door shut on researchers … Few have prised it open again, even an inch. Lokhova … is one of those who have - and that is the strength of her book. It contains original material in a genre of retreads" - Giles Whittell, The Times
"'A superbly researched and groundbreaking account of Soviet espionage in the Thirties … remarkable" - Telegraph