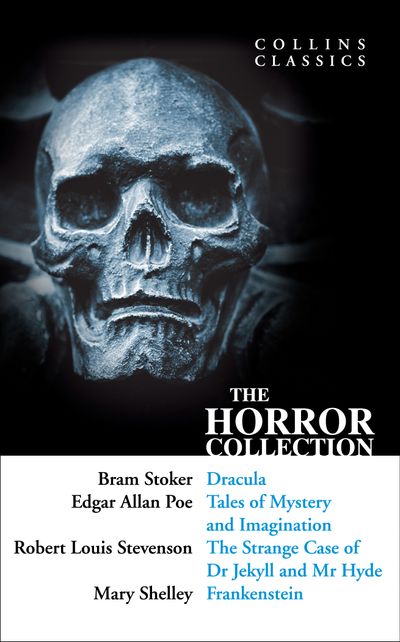 Collins Classics - The Horror Collection: Dracula, Tales of Mystery and Imagination, The Strange Case of Dr Jekyll and Mr Hyde and Frankenstein
(Collins Classics)
By Bram Stoker, Poe, Robert Louis Stevenson and Mary Shelley
Collins Classics brings you a haunting selection of the finest horror stories from classic literature – featuring works by Bram Stoker, Edgar Allan Poe, Robert Louis Stevenson and Mary Shelley – with additional content.
Complete with a Life & Times section for each author, which offers insights into their lives, works and the time of publication, and a handy glossary adapted from the Collins English Dictionary, this Collins Classics Collection will enhance your reading experience.
DRACULA: This dark, brooding and powerfully atmospheric novel is a classic of gothic literature, casting light on the darkness of the human psyche, and exploiting our deepest fears.
TALES OF MYSTERY AND IMAGINATION: Including Poe's most terrifying, grotesque and haunting short stories, Tales of Mystery and Imagination is the ultimate collection of the infamous author's macabre works.
THE STRANGE CASE OF DR JEKYLL AND MR HYDE: Stevenson's quintessential novella of the Victorian era epitomizes the conflict between psychology, science and religious morality, but is fundamentally a triumphant study of the duality of human nature.
FRANKENSTEIN: In the most famous gothic horror story ever told, Shelley confronts the limitations of science, the nature of human cruelty and the pathway to forgiveness with rich language and evocative imagery.