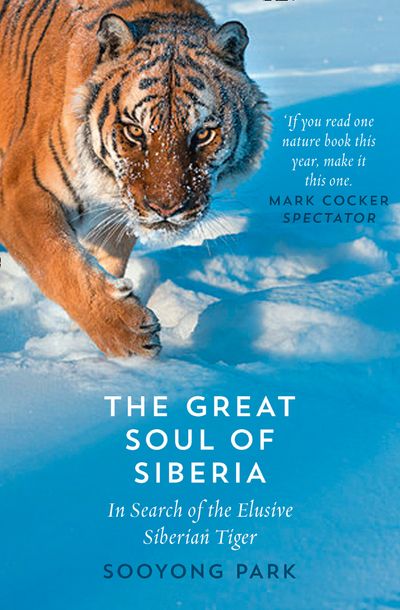 The Great Soul of Siberia: In Search of the Elusive Siberian Tiger
By Sooyong Park
There are five races of tiger on our planet and all but one live in tropical regions: the Siberian Tiger Panthera tigris altaica is the exception. Mysterious and elusive, and with only 350 remaining in the wild, the Siberian tiger remains a complete enigma. One man has set out to change this.
Sooyong Park has spent twenty years tracking and observing these elusive tigers. Each year he spends six months braving sub-zero temperatures, buried in grave-like underground bunkers, fearlessly immersing himself in the lives of Siberian tigers. As he watches the brutal, day-to-day struggle to survive the harsh landscape, threatened by poachers and the disappearance of the pristine habitat, Park becomes emotionally and spiritually attached to these beautiful and deadly predators. No one has ever been this close: as he comes face-to-face with one tiger, Bloody Mary, her fierce determination to protect her cubs nearly results in his own bloody demise.
Poignant, poetic and fiercely compassionate, The Great Soul of Siberia is the incredible story of Park's unique obsession with these compelling creatures on the very brink of extinction, and his dangerous quest to seek them out to observe and study them. Eloquently told in Park's distinctive voice, it is a personal account of one of the most extraordinary wildlife studies ever undertaken.
Praise for The Great Soul of Siberia: -
"'If you read one nature book this year, make it this one." - Mark Cocker, Spectator
"'Wonderful … deserves to become a classic of wildlife literature." - The Times
"'A wonderful evocation of the land and the habits of the desperately endangered Siberian tiger." - Independent
"'The year's best wildlife book could already have arrived" - Wanderlust
"'Subtly intense … Park has a deep sense of oneness with the world around him. His close engagement with the forest ecology is the most extraordinary element of this remarkable book." - New Statesman
"'It's a masterpiece. One of the most moving outdoor texts I've read in years. This is a book about love - one exceptional human being's love for the wild, beautiful and persecuted creatures to which his life is dedicated. It also comprehends a fortitude and hardihood so far beyond the everyday I was left shaking my head in astonished admiration." - The Great Outdoors
"'Sooyong's magical prose led me into little-known and breathtakingly beautiful forests, exposed me to the bitter cold of long winter months, and revealed the secret life of that most mysterious of cats, the Siberian tiger." - Jane Goodall
"'A triumph of nature writing; an original and authentic voice from the wilderness." - Jonathan and Angela Scott
"'The book is a love letter … To read it is to hear the voice of a remarkable man." - Daily Telegraph
"'Spellbinding … Park's book burns an indelible memory." - Country Life