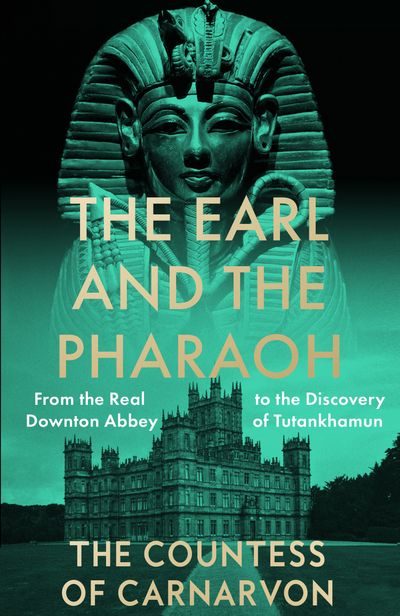 The Earl and the Pharaoh: From the Real Downton Abbey to the Discovery of Tutankhamun
By The Countess of Carnarvon
Enter a world of ancient secrets, old money, new ambitions and the discovery of priceless treasure in this revelatory new biography.
Between November 1922 and spring 1923, a door to the ancient Egyptian world was opened. The discovery of the tomb of Tutankhamun would be the most astonishing archaeological find of the century, revealing not only the boy pharaoh's preserved remains, but thousands of finely crafted objects, from the iconic gold mask and coffins to a dagger made from meteorite, chalices, beautiful furniture and even 3000-year-old food and wine. The world's understanding of Ancient Egyptian civilisation was immeasurably enhanced, and the quantity and richness of the objects in the tomb is still being studied today. Two men were ultimately responsible for the discovery: Lord Carnarvon and Howard Carter. It was Lord Carnarvon who held the concession to excavate and whose passion and ability to finance the project allowed the eventual discovery to take place.
The Earl and the Pharaoh tells the story of the 5th Earl of Carnarvon. Carnarvon's life, money and sudden death became front-page news throughout the world following the discovery of the tomb, fuelling rumours that persist today of 'the curse of the pharaohs'. His beloved home, Highclere Castle, is today best-known as the set of Downton Abbey.
Drawing on Highclere Castle's never-before-plumbed archives, bestselling author Fiona, the Countess of Carnarvon, charts the twists of luck and tragedies that shaped Carnarvon's life; his restless and enquiring mind that drove him to travel to escape conventional society life in Edwardian Britain.
Early praise for the The Earl and the Pharaoh -
"'The story of their quest for the tomb of an obscure pharaoh is familiar but still exciting, and the countess tells it well, conjuring up the fights, the frustrations, the times when Carnarvon came close to cutting his losses and giving up, and the moment in November 1922 when Carter held his candle up to a hole in the wall of Tutankhamun's tomb and in answer to Carnarvon's question, 'Can you see anything?' answered, 'Yes, wonderful things'… Carnarvon's life makes a good story, with plenty of Downton-esque period details" - Daily Telegraph
Praise for the Countess of Carnarvon's previous works -
'Bright, breezy and unpretentious'Guardian -
'If you can't wait for the new season of Downton Abbey … this one's for you … A revealing portrait of the changing times'New York Post -
'[A] fascinating insight into how the seriously rich once lived'Newsweek Daily Beast -
'Lady Carnarvon's narrative is a vivid time-stamp of a tempestuous period in history, aptly incorporating its political situation and social structure, to satisfy history buffs'Publishers Weekly -