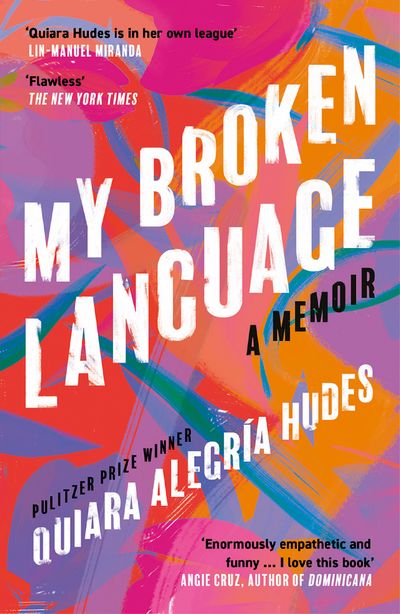 My Broken Language: A Memoir
By Quiara Alegría Hudes
"Quiara Hudes is in her own league. Her sentences will take your breath away. How lucky we are to have her telling our stories." – Lin-Manuel Miranda
From the Pulitzer-prize winning playwright behind IN THE HEIGHTS comes a spellbinding coming-of-age story, and a vibrant and life-affirming celebration of the women who guide us.
Born in Philadelphia to a Jewish father and an enigmatic Puerto Rican mother, Quiara Alegría Hudes had a love-and-trouble-filled upbringing, haunted by the unspoken, untold family secrets of the barrio. In the face of real world wounds, the powerful, Orisha-like women of her family possessed a strength, joy and sensuality that left a young Quiara awe struck. She vowed to tell their stories.
But confronted by a world that treated her like an outsider, Quiara knew she must find a new language, one which reflected the multiple cultures that raised this Puerto Rican child of North Philly. Written and spoken, English and Spanish, sacred and profane — as her search for a way to share her family's story deepened, an artist emerged, ready to speak her truth.
An inspired exploration of home, family and memory, My BROKEN LANGUAGE is the story of a sharp-eyed observer who finds her voice and learns to boldly tell the stories that only she can tell.
INDEPENDENT BEST COMING-OF-AGE STORY 2021 -
"'Flawless … In the moments after I finished reading, first came the aphasia of wonder at a book that exceeds you" - - New York Times
"'This electrifying memoir, which is her first book, brings together the threads of her Philadelphia upbringing as the daughter of a Puerto Rican mother and Jewish father, never quite fitting in and trying to find her place in the world. Part coming-of-age story and part lyrical tale of the women she grew up with, this is a wonderful book about finding your voice, and telling the stories that helped to build you as a person." - THE INDEPENDENT
'Quiara Hudes is in her own league. Her sentences will take your breath away. How lucky we are to have her telling our stories.' - LIN-MANUEL MIRANDA -
'Enormously empathetic and funny … The language throughout is gorgeous and so moving. I love this book.'- ANGIE CRUZ, author of Dominicana -
"'This book is a how-to for this generation of storytellers looking for direction on how to step into their power. If anyone asks me how to tell their story, I'm just gonna send them this book." - - JON CHU, Director of In the Heights and Crazy Rich Asians
"'A masterclass on how we might all find the courage to tell our own stories on our own terms." - - KIMBERLY DREW, author of This is What I Know About Art and Black Futures
'Visceral, riotous, and cathartic. - to read Hudes' Broken Language was a kind of baptism. A woman's journey to find her voice has never been rendered so powerfully. I can honestly say I grew as a writer from reading it.' - JINI REDDY, author of Wanderland -
"'An extraordinary, beautiful and deeply moving memoir " - - SOPHIE HARDACH, author of Confession with Blue Horses