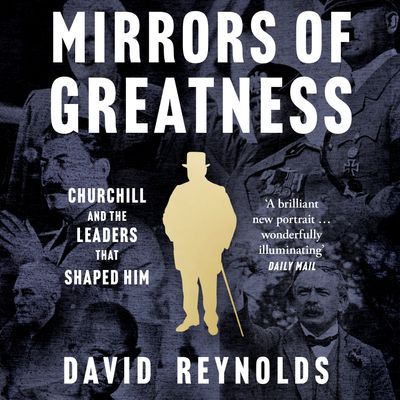 Mirrors of Greatness: Churchill and the Leaders Who Shaped Him: Unabridged edition
By David Reynolds, Read by Ethan Kelly
'A highly imaginative and thought-provoking way of exploring the personality of a man who, like him or loathe him, left an indelible mark on our age' ADAM ZAMOYSKI
Winston Churchill followed his own star. He yearned to be 'great', to gain historical immortality. And he did so through deeds and words: his actions as a soldier and politician, gilded by his writings as a journalist and historian.
But Churchill's path to greatness was also defined by the leaders he encountered along the way – friends and foes, at home and abroad. Men of power such as Hitler and Mussolini, Roosevelt and Stalin, David Lloyd George, Neville Chamberlain and Charles de Gaulle. And the haunting presence of the adored father who had seen nothing of merit in his troublesome son. In these men Churchill discerned greatness, or its absence, in ways that influenced his own career.
This book includes some whom Churchill would not have deemed 'great', but who – in our own day – offer alternative mirrors of what that word might mean. Mahatma Gandhi, who infuriated Churchill by exploiting the power of powerlessness. Clement Attlee, whose heretical vision of 'Great Britain' was socialist and post-imperial. And his darling Clementine, channelling her 'pinko' sentiments to become Winston's essential helpmate and most devoted critic.
Mirrors of Greatness offers vivid new perspectives on Churchill's life and work, showing how this unique man – with dazzling gifts and jagged flaws – learned from his 'great contemporaries' and what they saw in him.
Early Praise for Mirrors of Greatness: -
'This book, by a Cambridge academic who has studied his subject over a lifetime perhaps more closely and shrewdly than any other writer, is not a collection of Churchill's biggest clangers. Instead, it is almost a second volume that Churchill himself never wrote, of his 1937 Great Contemporaries…always shrewd and sometimes brilliant…It includes wonderful anecdotes, some unfamiliar. Even the stories that we know bear retelling'The Times, Max Hastings -
'A brilliant new portrait of the man who is, for many, still the Greatest Briton … wonderfully illuminating'Daily Mail -
'A highly imaginative and thought-provoking way of exploring the personality of a man who, like him or loathe him, left an indelible mark on our age'Adam Zamoyski -
"'Winston Churchill was unique" - but that does not mean that he was alone. David Reynolds' insightful work illuminates much about those towering figures who shaped not only the politics of the first half of the twentieth century, but also helped form the man who was, in the end, the greatest of them all'Eliot A. Cohen, author of The Hollow Crown
'Erudite. Authoritative. Compellingly written, and with pace and verve. Reynolds reveals much that is new in a gripping narrative history of the Great Man, one that will have you turning the pages into the early hours. It certainly did me. Like all good books, I shall return to this again and again'Damien Lewis -
'Who inspired Churchill as he rose to the pinnacle of power? And how did he himself seek to mold how history would view him? No one is better placed to address these deceptively simple questions than David Reynolds, and he succeeds splendidly in this magnificent book'Fredrik Logevall, author of JFK -