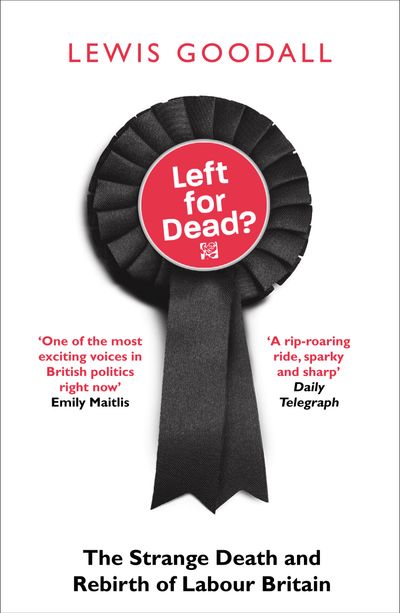 Left for Dead?: The Strange Death and Rebirth of Labour Britain
By Lewis Goodall
A timely and provocative account of the fall of New Labour, the rise of Corbyn, and what it means for the left in Britain.
'Lewis Goodall is one of the most exciting voices in British politics right now' Emily Maitlis
'Hugely illuminating, thought-provoking and moving in its seriousness and optimism' Lord Andrew Adonis
ESSENTIAL READING DURING LABOUR'S LEADERSHIP CAMPAIGN.
In the 21st Century the Labour Party has undergone the most extraordinary transformation in its history. After more than a decade of political dominance, the party lost two consecutive general elections and found its leadership usurped by the obscure far-left MP Jeremy Corbyn. As Britain voted to leave the EU, Labour seemed destined for long term irrelevance.
In Left for Dead? journalist Lewis Goodall tells the full story of this political journey with unprecedented access to all its key players, from Blair to Corbyn. Weaving together personal memoir, exclusive interviews, juicy gossip and incisive critique, he travels from the streets of his childhood in the shadow of the Birmingham Rover factory to the corridors of power in Westminster, tracing the journey of the party from the twilight of the 'Third Way' to the tumult of the financial crisis to the ravages of Brexit and Corbynism.
Because one thing is for certain – the traditional social democratic centre-left which we have known since the war is barely twitching in the road. But what has replaced it? Where has it come from? And what does it mean for the long-term future of the Labour Party?
"'Lewis Goodall is one of the most exciting voices in British politics right now - and this book shows clearly why he is worth listening to. Profoundly, exquisitely funny, Left for Dead is that rare gem - acute political observation told through intensely personal story" - Emily Maitlis
"'Lewis Goodall's brilliant book is part memoir, part portrait of Labour and the Britain he grew up in under Blair. It is the best work I have read of his generation, which thank God is replacing mine. Hugely illuminating, thought-provoking and moving in its seriousness and optimism" - Lord Andrew Adonis
"'I cannot recommend Lewis Goodall's book enough. I'm loving every page. It's not just politically powerful but far more emotional to read than I'd expected" - Matt Forde
"'A rip-roaring ride, sparky and sharp … Goodall explores Labour's story with rigour" - Daily Telegraph
"'An excellent new book on Corbynism, and where it stands in Labour's history" - Andrew Sparrow, Guardian
"'Lewis Goodall argues compellingly that the 2017 general election didn't change British politics, it revealed profound shifts that had been taking place for years. Goodall challenges the most entrenched assumptions and reveals a Britain utterly changed. This is big picture journalism informed but up close and intimate detail. Goodall's reporting is energetic, astute, eloquent. His voice rings with a decency and respect for others that is often missing in an increasingly polarised and bitter political discourse - and left me feeling, by the end, surprisingly hopeful about the future" - Allan Little
"'Impassioned and insightful, this is the best book on Labour to appear in years. Lewis Goodall combines the precision of an expert analyst with the raw emotion that comes from growing up in a family rooted in the Labour Party's past traditions" - Professor Marc Stears, Director, Sydney Policy Lab, University of Sydney (Formerly chief speechwriter to Ed Miliband MP)