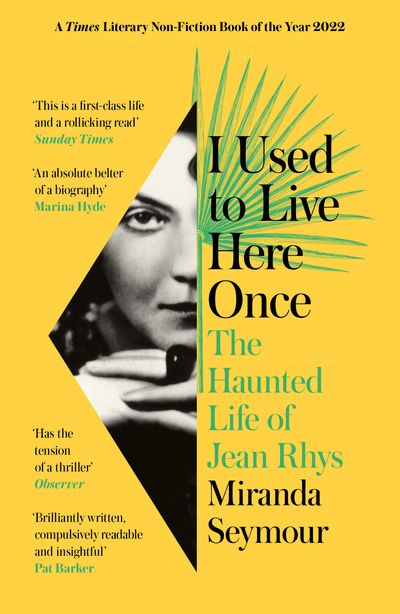 I Used to Live Here Once: The Haunted Life of Jean Rhys
By Miranda Seymour
'An absolute belter of a biography' MARINA HYDE
A Times Literary Non-Fiction Book of the Year 2022
An LA Times Best Book of the Year 2022
An intimate, revealing and profoundly moving biography of Jean Rhys, acclaimed author of Wide Sargasso Sea.
An obsessive and troubled genius, Jean Rhys is one of the most compelling and unnerving writers of the twentieth century. Memories of a conflicted Caribbean childhood haunt the four fictions that Rhys wrote during her extraordinary years as an exile in 1920s Paris and later in England. Rhys's experiences of heartbreak, poverty, notoriety, breakdowns and even imprisonment all became grist for her writing, forming an iconic 'Rhys woman' whose personality – vulnerable, witty, watchful and angry – was often mistaken, and still is, for a self-portrait.
Many details of Rhys's life emerge from her memoir, Smile Please and the stories she wrote throughout her long and challenging career. But it's a shock to discover that no biographer – until now – has researched the crucial seventeen years that Rhys spent living on the remote Caribbean island of Dominica; the island which haunted Rhys's mind and her work for the rest of her life.
Luminous and penetrating, Seymour's biography reveals a proud and fiercely independent artist, one who experienced tragedy and extreme poverty, alcohol and drug dependency, romantic and sexual turmoil – and yet was never a victim. I Used to Live Here Once enables one of our most excitingly intuitive biographers to uncover the hidden truth about a fascinatingly elusive woman. The figure who emerges for Seymour is powerful, cultured, self-mocking, self-absorbed, unpredictable and often darkly funny. Persuasive, surprising and compassionate, this unforgettable biography brings Jean Rhys to life as never before.
'This is a first-class life and a rollicking read. Seymour skilfully interweaves the autographical stories and novels with the people and fortunes in Rhys's crazily adventurous life. She's warmly sympathetic to the young ingénue of 17, and only slightly less so to the old bat of 87. She's also the only Rhys biographer who travelled to Dominica to see what it was about the island — its colours, smells, conflicted history and voodoo sorcery — that haunted Rhys all her days but fired her imagination. The result is close to a masterpiece'John Walsh, Sunday Times -
'Her intimate and insightful biography … certainly reads like a novel. [Seymour] is a bewitching writer … gives us Rhys in all her glory'Laura Freeman, The Times -
'The superb achievement of Miranda Seymour's painstaking and compassionate new biography is to dispel forever the idea that Rhys was simply a naïve chronicler of her own experiences … in terms of sheer technique, she was a virtuoso'Spectator -
'[A] slyly compelling new biography of Jean Rhys … The narrative has the tension of a thriller as Rhys struggles to finish Wide Sargasso Sea'Rachel Cooke, Observer -
"'Seymour,a masterful biographer… tells her story with empathy, precision and a keen eye for the telling detail" - LA Times, A Book of the Year 2022
'An exhaustive, definitive ride around both the idea and the reality of Jean Rhys … Seymour addresses a writer and woman who is at once self-absorbed and thoughtful, sardonic and sensitive'Siobhán Kane, Irish Times -
"'An absolute belter of a biography . . . don't read if you are afraid of monsters" - Marina Hyde, Favourite Reads of 2022
'A very impressive piece of work. A long and tangled life most authoritatively pieced together. I was completely absorbed'Michael Frayn, author of Noises Off -