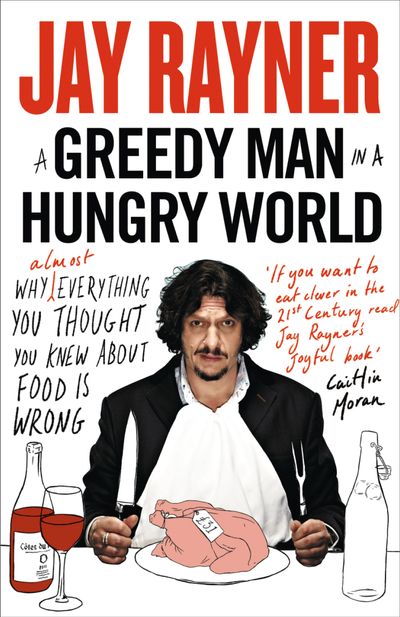 A Greedy Man in a Hungry World: Why
(almost)

everything you thought you knew about food is wrong

By Jay Rayner
Now with a new epilogue, the UK's most influential food and drink journalist shoots a few sacred cows of food culture.
Buying 'locally' does no good. Farmers' markets are merely a lifestyle choice. And 'organic' is little more than a marketing label, way past its sell by date. This may be a little hard to swallow for the ethically-aware food shopper but it doesn't make it any less true. And now the UK's most outspoken and entertaining food writer is ready to explain why.
Jay Rayner combines personal experience and hard-nosed reportage to explain why the doctrine of organic has been eclipsed by the need for sustainable intensification; and why the future lies in large-scale food production rather than the cottage industries that foodies often cheer for. From the cornfields of America to the killing lines of Yorkshire abattoirs via the sheep-covered hills of New Zealand, Rayner takes us on a journey that will change the way we shop, cook and eat forever. And give us a few belly laughs along the way.
"'If you want to eat clever in the 21st Century read Jay Rayner's joyful book. The rules of lunch just changed" - Caitlin Moran, author of 'How To Be a Woman'
"''Muddled thinking' and numpty moralising about food are major annoyances of the foodie age. Rayner skewers them deftly, as a man who knows his cutlery can" - Observer
"'Jay Rayner is always thinking about his next meal so in his new book he examines the economics of food to forecast how we will feed ourselves in the future and what exactly will, or possibly won't, be served on our dinner plates. It's part-memoir, part reportage and never preachy. He serves up much food for thought" - Daily Express
"'Challenging the organic movement, locavores, and the food miles, he serially slaughters the sacred cows of the liberal foodists. Easy to read - uncomfortable to accept" - Financial Times
"'Rayner's latest [challenges] the organic movement, locavores, food miles and seemingly every other sacred cow of the modern food world. Easy to read, even when uncomfortable to accept" - Financial Times
'Funny and thought-provoking, Rayner - a self-confessed glutton - questions preconceptions about food issues. Supermarkets versus farmers' markets, the GM debate, food miles, seasonality, food poverty and the madness of the Western diet are all examined with a refreshing honesty, and a desire to see both sides of the argument' BBC Good Food -